How to Clean and Maintain Outdoor Wooden Floors
Wooden Floors in Outdoor Spaces: A Global Phenomenon
Wooden floors are gaining popularity for outdoor spaces, providing a natural and visually appealing transition from indoor hardwood flooring to garden or balcony surfaces. Embracing the modern trend of connecting with nature, outdoor wooden floors (such as decking) add a touch of elegance to open spaces.
Although there is no consensus among experts on whether outdoor wooden flooring requires special care and maintenance, the market offers an increasing range of products designed to preserve the beauty of wood exposed to various weather conditions.
Maintaining Outdoor Wooden Floors
Different types of wood need different types of care, and certain types of wood are unaffected by common maintenance products. For instance, genuine teak wood contains natural oils, making additional oiling unnecessary. Cleaning and polishing products preserve the vibrant appearance of the wood. There are three groups of products for outdoor wood floor maintenance: cleaning products for wooden balconies, oils for wooden balconies, and grey spots removal products.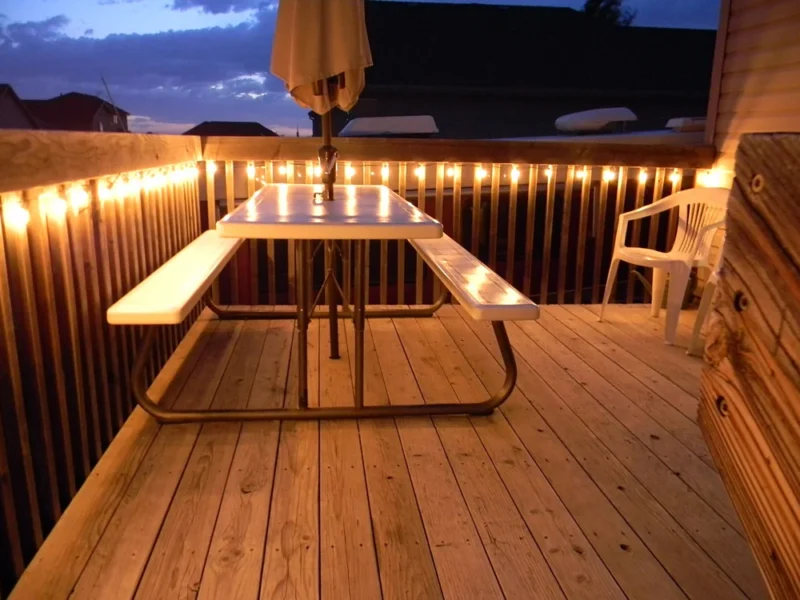 Cleaning Solution for Wooden Teraces
Wooden floors on terraces often encounter issues like moss, insects, dirt, and weather-related damage. Mild cleaning agents formulated for wooden floor balconies effectively remove dirt. It is advisable to avoid aggressive cleaning agents that may harm the wood fibers.
Alternatively, hard brushing with water and bleaching agents, sometimes combined with kitchen salt, can efficiently eliminate moss and dirt from wooden floors on balconies. However, bleaching agents are not environmentally friendly and may cause the wood to develop a light greyish tint. Using a multipurpose biodegradable cleaning product is a better option.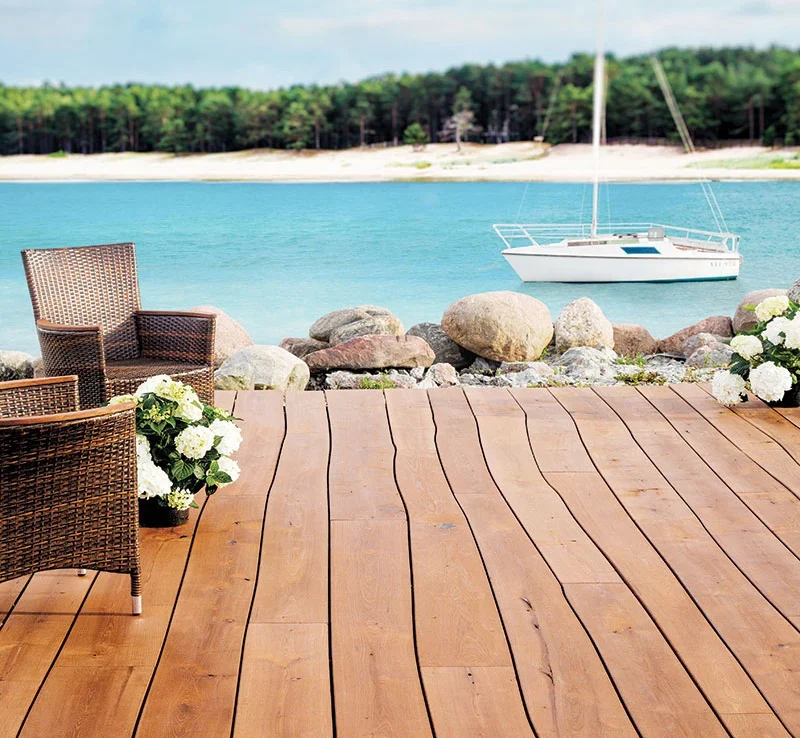 Most cleaning products are mixed with water and applied using a well-soaked brush, ensuring complete floor coverage. Heavily stained areas may require more liquid. After cleaning, allow the floor to dry for 3-4 days, followed by a thorough rinse with plenty of water. Repeat brushing if necessary. Finally, apply an oil coating specifically made for wooden terraces.
Oil for Wooden Terraces
Many experts consider oil treatment essential care for all types of wooden floors. Oils penetrate the wood, enhancing its natural color and providing a resilient surface. Oils protect the wood from dirt, water, and even UV rays (those with minimal or no pigments have limited UV protection). They are made typically from natural materials, sometimes water-soluble and environmentally friendly.
Before applying the oil, the floor has to be dried, cleaned, and degreased. Old floors may need thorough cleaning and occasional sanding. Apply the oil evenly and allow it to be absorbed by the wood for approximately 20 minutes. Remove any excess with a cloth to prevent spots. Pay special attention to joints, cracks, and other floor damage.
If the wood does not absorb enough oil, repeat the process. To achieve a satin-like finish, polish the floor with a cloth. Leave the floor to dry for 15-30 hours, depending on temperature and humidity. Experts recommend repeating the process twice a year.
Grey Spots Removal Products
Certain products are designed to prevent wooden floors from developing light grey spots or discoloration while simultaneously cleaning and preserving their natural color.
Always refer to the manufacturer's instructions before using any products on outdoor wooden floors.