How to clean and maintenance outdoor wooden floors
Wooden floors in open spaces conquer the world
In stead of stone and ceramic tiles, wooden floorings are more and more used for outdoor spaces. Natural transition from the hardwood flooring in the living room to a wooden floor in the garden or on the balcony is very eye appealing. Wooden floors in outdoor spaces (decking) is a reflection of a modern tendency to be more united with the nature.
Experts have different opinions if the wood used for out door flooring needs special attention. Never the less, every day, new products for wood care are being presented to the public.
Maintenance of the wooden floors in outdoor spaces
Different types of wood need different types of care. Certain woods, like teak are rich in natural oils. There fore, for teak floors you do not have to use oily products. Cleaning and polishing products for wooden floors in outdoor spaces have to keep the natural look of the wood. These products can be divided in to three categories; cleaning products for wooden balconies, oils for wooden balconies and grey spots removal products.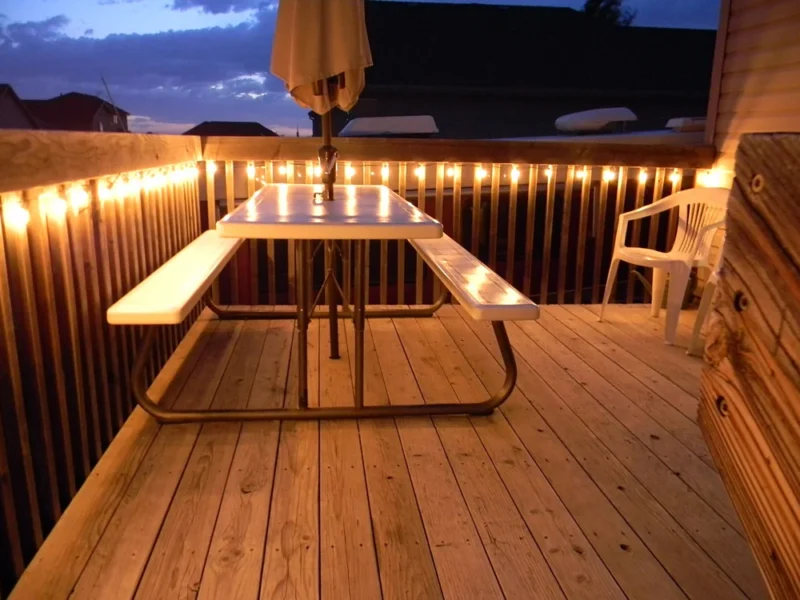 Outdoor wood flooring
Wooden floors on terraces are often affected by moss, insects, dirt and weather conditions. Dirt and moss are cleaned by using mild agents made for wooden floor balconies. Using aggressive cleaning agents is not recommended because they can damage the wood fibers.
Moss and dirt can also be removed from wooden floors on balconies by hard brushing with water and bleaching agents (kitchen salt is often added for better results). This way of cleaning is very efficient but it has to be said that bleaching agents are not nature friendly and wood tends to get a light grayish color. It is better to use a multipurpose biodegradable cleaning product.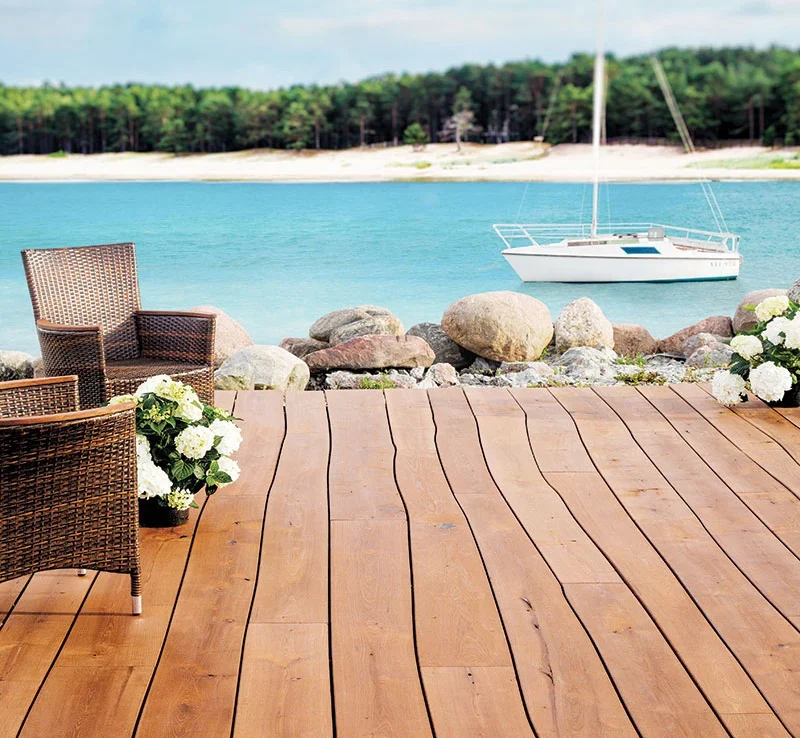 Most cleaning products are used with water and applied with a brush soaking well the whole floor. More liquid should be applied to highly stained parts of the wood. After cleaning leave the floor to dry for 3-4 days. Than rinse the floor with lots of water, and you can brush it again. Clean floor should be coated with oil for wooden terraces.
Oil for wooden terraces
Some experts think that use of oils is the basic care for all types of wooden floors.
Oils are well absorbed by wooden floors, giving them natural color and powerful resistant surface. Oils protect the wood from dirt, water and even UV rays. Oils with little or without pigments give the lowest protection to UV rays. Oils for wooden floors are made of natural materials and some or even soluble in water and thus nature friendly.
Before applying the oil, floor has to be dried, cleaned and degreased. Old floors need to be well cleaned and some times abraded. Oil has to be applied evenly and left to be absorbed by wooden floors. After 20 minute all residue oil should be removed with cloth to prevent spots in the wood. Junctions, cracks and other damages in wooden floors need special attention.
If the wood is not well soaked in oil you can repeat the process. To achieve a satin like look, polish the floor with a cloth. The floor has to be left to dry for 15 – 30 hours depending on the temperature and air humidity. Wooden floors should be treated this way at least twice a year.
Grey spots removal products
There are special products that can prevent wooden floors to spot and change color to a light grey shade. These products clean wooden floors and at the same time protect its natural color.
Before using any product for wooden floors in outdoor spaces make sure you have read the instructions from the manufacturer.