Modern PVC designs can perfectly imitate natural materials like wood, metal, glass or stone making PVC floors also eye appealing. PVC floors made of synthetic polymer polyvinyl chloride are broadly used in public and commercial places but also in the private domains. Reasons for that are of practical nature as well as because of designers' possibilities.
PVC flooring can be divided in two general types:
Homogeneous PVC
Heterogeneous PVC
Homogeneous PVC floors
Homogeneous PVC floors come as an economical solution because of their long-term life and therefore they are good in high-traffic and industrial areas such as hospitals, schools, libraries, supermarkets, warehouses and so on.
Surface polyurethane coating prevents the dirt from sticking onto the surface and makes the cleaning of the floor easier. Homogenous PVC flooring is practical and economical but does not meet very high aesthetic standards.
Electrical conductive PVC
Electrical conductive PVC flooring is homogenous PVC flooring able to disperse static electricity out of the room. Floors like these protect people from static electricity influences created by machines placed in the building such as computer centres, friction machines etc. Electrical conductive PVC floors also protect highly sensitive equipment used in electro industry, medicine, biochemistry and chemistry from static electricity. By European standards electrical conductive PVC floors have to be installed in hospital surgery rooms and intensive care units.
Heterogeneous PVC floors
Heterogeneous PVC floors are produced by layer-upon-layer principle. They can be with a foamy sub layer – so called warm floor or without foamy sub layer – so called compact PVC. Foamy layer serves as a sound and thermo insulator. Surface of this type of floors is designed either by printing or by surface treatment (surface texture). Resistance to friction and wear is directly proportional to thickness of the outer layer made of PVC coating over printed designs (wear layer thickness). Polyurethane final coating contributes to high hygienic standards.
Aesthetic potential of heterogeneous PVC flooring is vast. Different colours, patterns, imitations of stone, wood, metal, glass, different dimensions and panel shapes, shimmer and so on are used in heterogeneous PVC designs. This type of PVC can be combined with other flooring materials and is used in housing, commercial and industrial spaces.
PVC class of use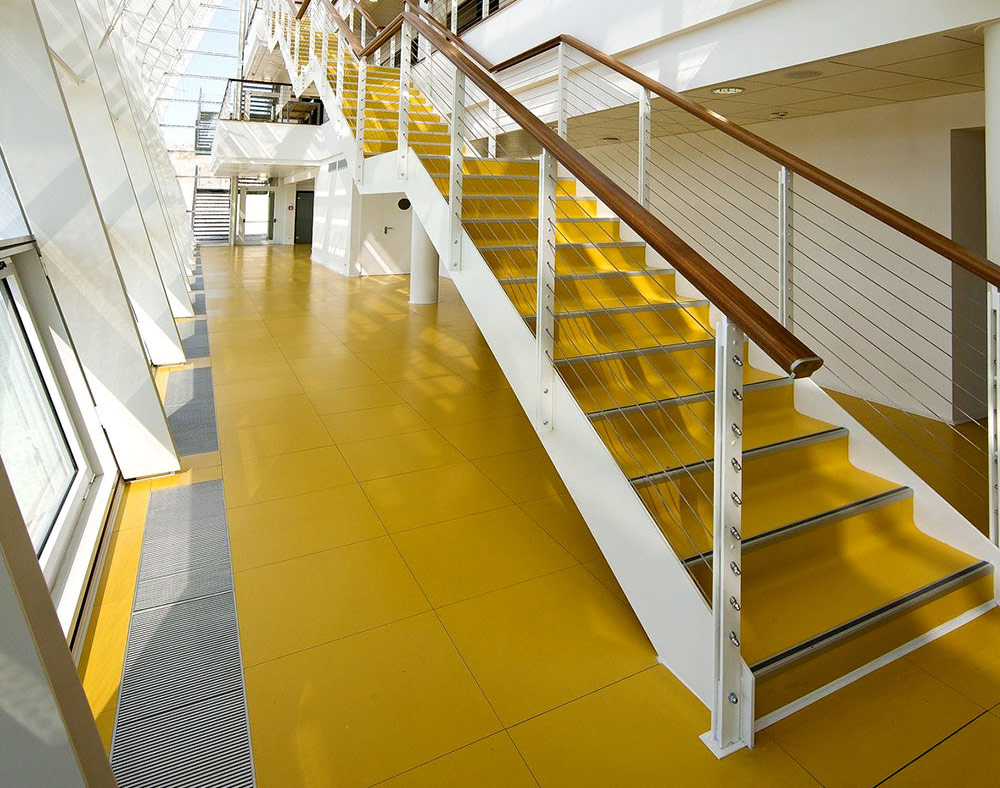 The product design is usually subjective, however quality of the vinyl floorings have to amount to certain standards. The most important is the 'class of use' Europeans standard EN 685. This standard divides flooring into three groups based on type and intensity of traffic:
1. Domestic use floors
– Areas with low use, class 21, for example bedrooms
– Areas with medium use, class 22, living rooms
– Areas with intense use, class 23, entry hallway
2. Commercial use
Shops, offices, schools, hospitals, class 31, 32, 33 or 34.
3. Industrial use
Warehouses and production areas, class 41, 42 or 43. High quality PVC flooring can be a good solution for so called easier industrial conditions. PVC flooring is not suitable for places with extremely high or low temperatures, excessive humidity, moisture, grease, heavy equipment…
Important characteristics of PVC floors are also resistance to friction, chemicals, fire, anti slippery characteristics, good sound insulator…
How to prepare foundation for vinyl flooring
Properly prepared foundation for installing all types of PVC floorings is very important not just for their quality but for their aesthetic appearance also.
Foundation has to be water insulated and perfectly smooth which is obtained by use of self levelling compounds. PVC floors are installed on totally dry and smooth surface. Only on a well prepared foundation can PVC flooring can show its beauty and usefulness.
Final touches
Patience and a steady hand are key factors at this step. PVC flooring is installed by using dispersive PVC adhesives. Joints may optionally be welded together with weld tapes of appropriate colours. Transitions between floor and walls can be made on the spot from the same floor materials or you can use pre made PVC, MDF or wooden skirting boards.
And it's done! Step easily, comfortably and safely!