Details for a better living
Spring is the best time of the year for all sorts of house work. If you do not have a lot of money, at least buy a new mat for your floor or a new cover for your bed. It will certainly cheer you up.
Every room in your house needs at least one rug, mat or patchwork. Fabrics we use to protect floors from dust and dirt can make our home look vibrant and beautiful and they are useful and cheap. They never had, nor they will have, a status that the carpets have achieve throughout the history, but they certainly have their good points. They are cheaper, easier to clean and they can be washed even in the washing machine. With little energy and clever ideas, these floor coverings can make your living space shine.
Once, the hand woven rugs used to be a part of every rural household, but in time, they lost their popularity. With the revival of ethno style, in fashion, music and in interior design, the hand woven rugs had a real Hollywood comeback.
Original woven rugs are not industrially made but they are handmade of cotton materials on the loom. Today, of course, many of them are not handmade but that only makes them cheaper and more colourful. Hand woven rugs do not have just a decorative value, but they can be used as floor mats, chair mats, sofa covers, etc. and can be placed in any room of your home. They were originally made of stripes of cloths left over in process of making beddings and table cloths. Though, in the past years, as well as today, the production of woven rugs has been leaving lots of space for creativity and imagination.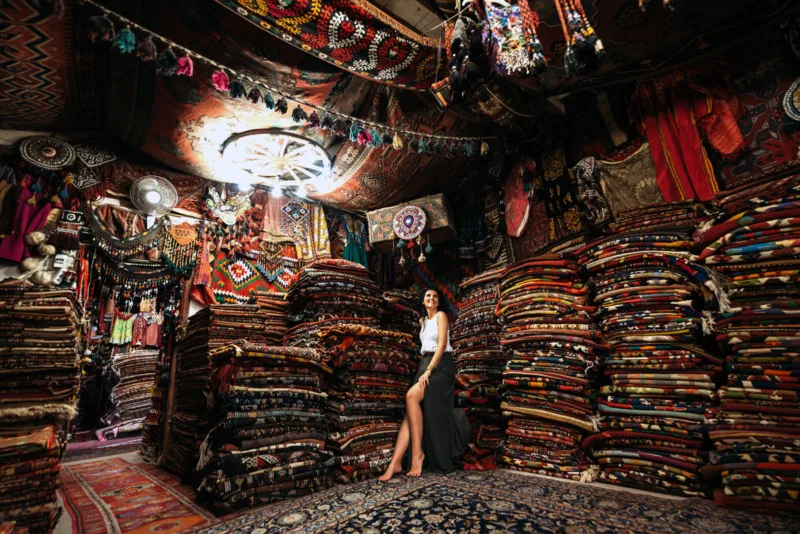 Woven rugs of different colours, shapes and designs, decorated with ornaments or monograms are sold today in textile and furniture stores, markets and craftsman shops. They can even be bought over the Internet and the buyers can order any kind of woven rugs, made of natural or synthetic materials.
In Serbia, as a part of the tradition, the most famous are hand woven rugs form the city of Pirot. They are handmade of pure wool and dyed with naturally obtained colours. Pirot rugs are the Serbian version of famous Persian rugs. Today only 30 women from Pirot make rugs in the traditional way. Hand woven rugs from Pirot have up to 1.4 million knots per square meter and the experts claim that the technique used for the rugs from Pirot is better than the one used in west European tapestries. Handmade woven rugs from Pirot are exclusively made on the vertical loom, in the kneeling technique, and the rug is identical on both sides (it is believed that the rug made in this way can survive two centuries – each side for one century). All shades of red colour are used in hand woven rugs from Pirot. Blue, green, yellow and natural greyish, as well as white and black colour of raw wool are also frequently used. Ornaments on the rugs are always geometric representing birds, flowers and the other objects from the nature.
However, for those who prefer modern trends in interior designs, shops offer mats and covers with urban motifs and bright attractive colours like pink and turquoise. Also, a large number of manufacturers, in order to fight the competition from China and India, offer a possibility of custom made rugs according to your wishes and taste.
Anyhow, all sorts of different textile covers, mats, rugs and patchworks can be used on the floors. They can even be used on furniture to protect it and give it a new refreshed look. If they are used as sofa covers, it is preferred that covers are not slippery and easily creased.